The Missionary Oblates of Mary Immaculate are one of the most important religious communities in the country. They have contributed to the development of Canadian society in a significant way. Discover the history of Îlot Saint-Pierre Apôtre in Montreal and of Saint Paul University in Ottawa. Their legacy lives on, even as it transforms and moves into the future.
SAINT-PIERRE APÔTRE AND MONTREAL
 In Montreal, we take up the path of the Oblates in Saint-Pierre Apôtre. The missionaries arrived in 1848 in what was then known as the Faubourg Quebec. There they established a new parish endeavour alongside an underprivileged working-class population. To this day, the Saint-Pierre Apôtre and Sainte-Brigide Christian community distinguishes itself through its openness toward outcasts and toward the gay community. The Centre St-Pierre, an independent organization created by the Oblates in 1973, likewise carries their legacy.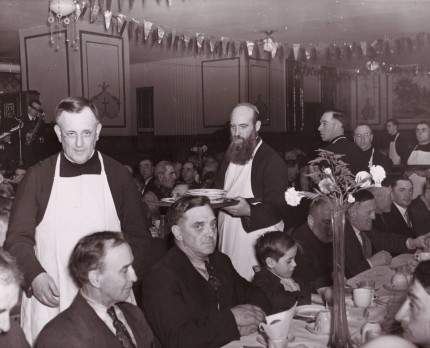 SAINT PAUL UNIVERSITY AND OTTAWA
In Ottawa, the Oblates played a major role in the construction of the diocese and in the growth of a small town, the future capital of Canada. The community invested itself in numerous fields, in order to maintain the vitality of the Catholic Church while also playing a significant role in the defense of the French language. One of the great lasting achievements of the Oblates is an educational endeavour that continues to this day through the University of Ottawa, and above all through Saint Paul University.
An exhibition presented from October 24, 2013 to March 2, 2014