In 1867, Charles-Théodore Viau opens a bakery on Sainte-Marie Street (Notre-Dame), at the corner of Wolfe Street. In 1873, his business becomes known as Viau & Frère and specializes in the making of biscuits. Forced to leave Notre-Dame Street, the business sets up on Ontario Street in the city of Maisonneuve in 1907. After being acquired by Dare Foods, biscuit production is relocated to Saint-Lambert and the factory on Ontario Street ceases its activities in 2004.
WhippetTM and other Viau products are registered trademarks of Dare Foods Limited.
A fire destroys the factory on Notre-Dame Street in 1899. It is reconstructed in the same spot.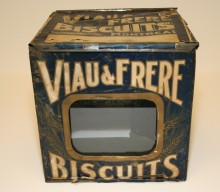 Biscuits are generally sold in bulk at the beginning of the 20th century. Grocers utilize displays with tinplate containers filled with the different varieties.
Viau adds chocolates and candies to its range of products. Candy is delivered in metal containers and sold by the pound by merchants.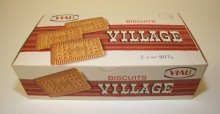 Charles-Théodore Viau makes the Village biscuit as of 1867. A small dry biscuit with a rectangular shape, this product remains a sure bet for the company throughout its history.
In 1927, the company launches a new biscuit called the Whippet. It's a more economical version of the Empire biscuit, created by Théophile Viau in 1900. The success of this new version is beyond all doubt.
Scales are used to weigh biscuits and candy, generally sold in bulk at the beginning of the 20th century.
Before the mechanization of the factory, workers use diverse tools to make candy and other sweets.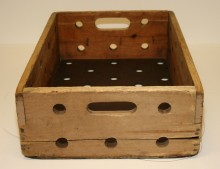 Workers in the factory use wooden boxes to transport the biscuits from one work station to another.
Mechanization of the factory speeds up in the 20th century. The business makes use of cutting edge technology.
The packaging of biscuits, candy and chocolates evolves in the 20th century and sometimes targets special occasions. The name Viau is long associated with a thoughtful gesture.