In 1905, the annual report of the City of Montréal estimates that 75% of housing in working-class neighbourhoods doesn't include a bath or shower. The city therefore decides to establish a public bath in each working-class neighbourhood between 1910 and 1930. Opened in 1927, the Généreux bath thus responds to a hygiene need as well as offering a recreational and sporting function. In the 1970's, the pool becomes the training site for the Club aquatique Montréal Olympique (CAMO). The pool closes in 1992 after experiencing heating and plumbing problems. The Écomusée moves in in 1996.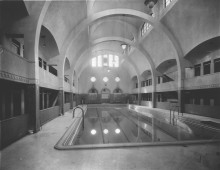 In 1927, the Généreux bath is formally opened in the presence of mayor Médéric Martin and city councillor Damase Généreux, whose name is given to the building. It is constructed according to the plans of architect Joseph-Omer Marchand. The bath is open six days a week and closed on Sunday, though women are only allowed access on Tuesdays and Thursdays.
In the lobby, the custodian meets bathers and records their entry. The building was designed foremost to respond to a hygienic need. Its layout therefore requires users to first enter the changing rooms and then the showers, before giving access to the pool.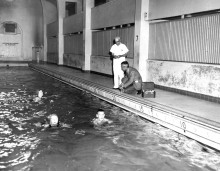 A municipal employee regularly analyzes the water quality.
The custodian must see to the security of the bathers, the supervision of employees, the respect of municipal regulations and the maintenance of the building. During the first forty years of the bath, the supervisor and their family live on the second floor.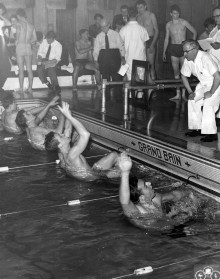 The building also responds to recreational and sporting needs. The Généreux bath is the most popular bath in Montréal for many years. In 1940, it welcomes 87,450 bathers.
In the 1940's the bath becomes a training and competition site for swimming, water polo and synchronized swimming.
The Généreux bath is an important gathering site for children in the neighbourhood. After the competition ends, it's time to celebrate.
Significant work is carried out at the site in 1956 and 1957 in order to modernize the installations, remove the private showers and redevelop the gallery, making it possible to welcome over 400 spectators. Crowds can now encourage the swimmers from the stands.
Tournaments are very popular at the Généreux bath.
The Écomusée du fier monde establishes itself in the Généreux bath in 1996. The transformation of the bath into a museum space is entrusted to the architect Felice Vaccaro, who redevelops the building in a way that respects its heritage and architectural value.
Turning the public bath into a museum requires major work.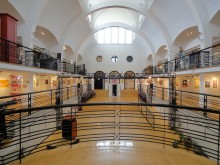 The Écomusée du fier monde formally opens in its new location in 1996, allowing the building to rediscover its public vocation.