Originally from Sainte-Anne-de-Beaupré, Alphonse Raymond arrives in Montreal in 1902. The son of a merchant, he first becomes a grocer. In 1905 he acquires a small canning factory on Plessis Street, not far from De la Gauchetière Street, and makes a name for himself in the production of jams and marinades. His company expands quickly and in 1913 he constructs a new factory on Panet Street just south of Ontario Street. Raymond products—including the famous strawberry jam—are savored by Quebecois families until the 1970s.  
In 1920, Alphonse Raymond adds a fourth floor to his factory on Panet Street. The site undergoes multiple phases of expansion to keep up with the company's growth. Over the course of its development in the 1950s, the complex consists of two sets of buildings on Panet Street and Lalonde Avenue.
In the early days of the company, information about production costs, sources of strawberries, or recipes for different products were often recorded in handwritten manuscripts.
Recipes for different Raymond products often consisted of few ingredients and were recorded in handwritten form.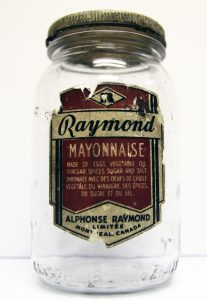 In addition to jams and marinades, Alphonse Raymond also produced various condiments like mayonnaise.
In the 1920s, Alphonse Raymond products are aimed at middle class households, such as readers of La Revue moderne.
The Raymond brand is always reserved for the highest quality products. But other brands such as Nationale, Marquette, and Red Star are produced at lower cost and sold for a better price.
"Made to Please!" was the company's advertising slogan.
The Raymond company also made table syrup, the ingredients of which we do not know. This product was sold in embossed glass bottles.
The distribution of promotional objects was also a commercial strategy used by Raymond.
The company was sold in the early 1970s and the Raymond brand disappeared a few years later. Nonetheless, many people still recall various products that marked their memories.