Jacques Cartier Bridge : Architectural Emblem of Montreal and the Neighbourhood
Year of construction: 1925-1930
Built in the late 1920s, the Jacques Cartier Bridge connects the island of Montreal to the South Shore and provides access to Île Sainte-Hélène. Its steel structure features three curves that give it its unique shape. The bridge has had an impact on the urban development and economic activities of Sainte-Marie. It is a physical landmark and a reminder of the early 20th century industrialization and development of the city, and is an iconic piece of Montreal architecture.
De Lorimier Stadium / Montreal Royals Field : A Major Sports and Entertainment Venue
Location: Corner of Ontario Street and De Lorimier Avenue
Now defunct, De Lorimier Stadium was the setting of many memorable events, including the 1951 visit of Princess Elizabeth. Montreal Royals baseball games took place there from the opening of the stadium in 1928 until the club's dissolution in 1960. Jackie Robinson, the first African-American player in the American league, played for the club in 1946. Today, the site is home to Pierre-Dupuy High School, as well as a small commemorative area, Place des Royaux.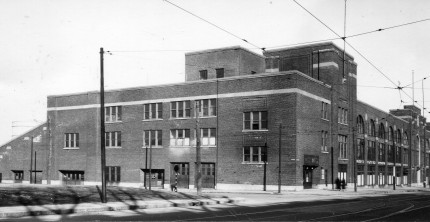 Parthenais Street : Cultural Creation Hub in the Faubourgs!
Location: Parthenais Street between Rouen and Ontario Streets
Grover Building, Chat des Artistes (Artist's Cat), Lezarts Coop
The Grover Building, the Chat des Artistes and the Lezarts Coop are three former factories in the neighbourhood that have been transformed and now serve a cultural purpose. Located along Parthenais Street, they form a group of industrial buildings converted into a place for artistic creation and presentation. Their dynamism gives the area renewed energy.
Sainte-Marie Current : At the Root of the Neighbourhood's Name
The Sainte-Marie current is a morphological feature of the St. Lawrence River that gave its name to the Sainte-Marie district. In past centuries, and before the steamboat was invented, it was a danger to navigation. This natural hazard often forced navigators to stop and have their boats towed to cross it. It was on the edge of this current that the working-class neighbourhood grew, which over time was known as Faubourg Québec, Faubourg Sainte-Marie and "Faubourg à m'lasse" (Molasses Faubourg).
Ontario Street : An Artery Steeped in Diverse Legacies
Designation: prior to 1842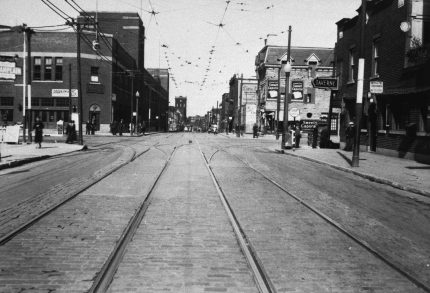 Ontario Street is a major artery of the Centre-Sud. In addition to its commercial focus, this historic street boasts a number of industrial and public buildings as well as places of worship. Stretching from east to west across the Centre-Sud, it is an important social hub for the neighbourhood's residents.
Pied-du-Courant Park (formerly Bellerive) : A Breathtaking View of the River
Location: 2382 Notre-Dame Street East
Pied-du-Courant Park, known as Bellerive Park until 2018, is located near port facilities and offers a breathtaking view of the river. The park dates back to 1883, when the North Shore Railway Co. donated land to the City for parkland development. Expansion of Notre-Dame Street left the site isolated and neglected for a long time due to its lack of accessibility. Some citizen groups, including Les AmiEs du Courant Sainte-Marie (Friends of the Sainte-Marie Current), are actively working to revitalize this site.
Médéric-Martin Park : Quality Urban Development
Designed and laid out lengthwise, Médéric-Martin Park runs behind the current Jean-Claude Malépart Centre and reaches as far as Hochelaga Street. The land, purchased in 1933, was not developed until 1958, following repeated requests from citizens in the area. Named after Montreal's 32nd mayor, the park serves as a shining example of citizen involvement. The Association des amis du parc Médéric-Martin (Friends of Médéric-Martin Park Association) was founded in 2009 to promote its revitalization. Since then, the community has taken ownership of the site and turned it into a lively area.
Des Érables Green Alleyway : A Space that Fosters Social Life
Location: Between De Lorimier Avenue and Des Érables Street, south of Ontario Street
Montreal's first green alleyways began to appear in 1997. These initiatives, generally citizen-driven, work toward the improvement of the quality of life of residents. The Des Érables Green Alleyway was the fruit of a citizen's initiative that aimed to, among other things, reduce automobile traffic bordering a residential complex home to many families. The site now includes a pedestrian path, greenery and meeting areas used mainly by the residents of the adjacent housing cooperative.
Veterans' Park : Evoking a Military Past
Location: Papineau Avenue, corner of Logan Street
During the mid-20th century, city authorities sought to increase green space and leisure facilities in working-class neighbourhoods. Hence, several parks were created in the Centre-Sud. Veterans' Park was founded in 1944 on a former military and civilian cemetery which catered to Montreal's Protestant community. Used mainly between 1814 and 1869, the cemetery had long been abandoned when local residents called for the site to be transformed at the beginning of the 20th century. More than 1,100 remains were moved to the Pointe-Claire Military Cemetery before work began on the park.
Revolutions, by Michel de Broin : Art in Public Spaces
Location: Outside the Papineau metro station
Revolutions is part of the City of Montreal's public art collection. Created by transdisciplinary contemporary artist Michel de Broin, this sculpture stands in the small Maisonneuve-Cartier Park, adjacent to the Papineau metro station. The work highlights Montreal's identity by putting its architectural heritage into perspective.